Exhibiton mine "Ewiges Leben"
A warm "Glück auf!" (the German miners' greeting) to all guests of our mine. When Martin Schilling and Franz Lingk from Marienberg created the mine for alum and vitriol in close vicinity of the Plauen city gates in 1542, they had no idea that they established a top attraction in the heart of Vogtland's capital. 450 years later it is frequently visited by the citizens and their guests.
The two miners from Marienberg were mining alum shale with the help of the vein mining method. The shale occurs from the theater close to the river Syra all along the Bahnhofstraße up to the main railway station and was obtained through surface and underground mining. During the Middle Ages alum salt had a ready market due to the need as a bleaching agent for the countless dye houses, tanneries and print shops. Today we can provide a historical insight into the former mining industry visiting the more than 300m of underground tunnels. The later utilization as an air raid shelter during WW II can also be experienced. Professional guides explain everything worth seeing and answer all questions by our visitors.
Fee structure
| Admission | |
| --- | --- |
| adults | 3,00 € |
| children ages 6 up to 16 years | 2,00 € |
| treasure hunt | 1,00 € |
| room rent per hour | 10,00 € |
| celebrations | possible |
| children under the age of 6 | no entry |
Page functions
Exhibiton mine
"Ewiges Leben"
Contact
Phonenumber

0049 37 41 / 52 94 26
Address for visitors
Reichsstraße 9

Opening times
--------------------
after arrangement by phone
map section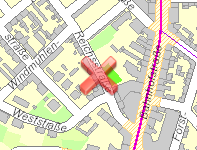 click here for the city map
Meta navigation