Public bath with sauna
Experience especially relaxing hours in one of the most modern indoor swimming pools in Germany. Whether you look for a challenge and swim in the 50m basin or you decide to relax in the adjacent antique swimming pool, both experienced swimmers and little water bugs will equally enjoy this handicapped accessible public pool.
The Plauen public pool also serves as a location for national and international swimming and water polo competitions. The cafeteria in the lobby is a pleasant place to spend some time. The sauna offers relaxing surroundings on two floors.
Page functions
Public bath
with sauna
Contact
Phonenumber

0049 37 41 / 2 81 58 70

Fax number

0049 37 41 / 28 15 87 33
Address for visitors
Hofer Straße 2
08527 Plauen

Opening times
Public bath

Mon, Tue,
Thu, Fri


6.30 am - 10 pm

Wed, Sat

7.30 am - 10 pm

Sun

8 am - 8 pm


Sauna

Mon - Sun

9 am - 10 pm
map section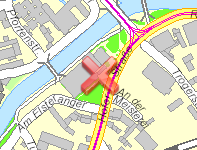 click here for the city map
Meta navigation