Industrial Location / Business Parks
Expansion, plant extension or founding of a new company - Plauen can offer business property and industrial locations in various sizes. Depending on your infrastructural needs you can choose from seven different business parks in the urban surroundings with a total area of 131 hectares.
All business parks
are fully accessible
have vacant sites available for development activity
have acceptable land prices
have vacant sites in various sizes
Most recently
Since the recent completion of the development of the first construction phase of the business park Plauen-Oberlosa, the city of Plauen can provide extensive industrial and business locations for fair prices located directly next to the Autobahn 72 (exit Plauen-Süd) as well as close to the B 92 (federal highway towards the Czech Republic).
Further information
can be found
by clicking
the according business park in the
graphic
.
Page functions
Eckhard Sorger
Wirtschaftsförderung
Contact
Phonenumber

+ 49 (0) 37 41 / 291 - 1800

Fax number

+ 49 (0) 37 41 / 291 - 3 1800

E-mail-address

Internet address
Address for visitors
Unterer Graben 1
08523 Plauen

Mailing address
Postfach 10 02 77
08506 Plauen

Gesprächstermine sind jederzeit, auch außerhalb der Öffnungszeiten des Rathauses, möglich.
map section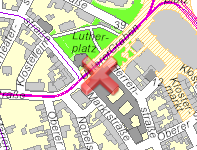 click here for the city map
Meta navigation